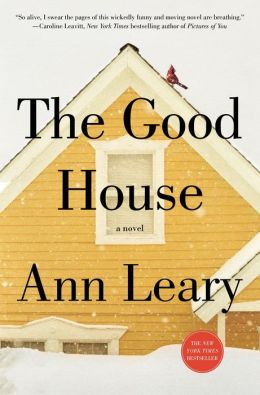 THE GOOD HOUSE by Ann Leary
Hildy Good is a successful realtor in Wendover, the little Massachusetts town where she's lived her entire life. Hildy has lived her whole life in Wendover, Massachusetts, an historic town on Boston's North Shore. One of her ancestors was one of the first women hanged for witchcraft during the Salem trials, some women in her family have claimed to have a psychic gift, and many think Hildy can read minds, which she says is nonsense, she's just really good at reading people.

However, Hildy has a drinking problem, and recently her two daughters staged an intervention and sent her to rehab. Now she feels awkward at parties where everyone drinks, so she doesn't, at least not until she's back home and can climb down to her cellar with her dogs and drink a glass or two, or a bottle or two as time goes on. She doesn't see anything wrong with that until she starts having blackouts again, and can't remember what she's done or where she's gone the night before. She develops a friendship, and finds a nonjudgmental drinking partner with Rebecca, new in town, married, wealthy and quickly involved in an affair with a local psychiatrist, which Hildy becomes privy to after doing a reading for Rebecca. Hildy also becomes involved with an old flame, the town's garbageman, who's a bit of a miser, but also quite wealthy,

who

cares deeply for Hildy.
Great story, great characters and some wicked plot twists.
Hildy isn't always easy to love, but she grows on you and you come to understand why she does what she does. You may not always like her, but you grow to love her and hope for the best for her. Ann Leary captures her alcoholic essence, and small town New England life perfectly.